Frontline Leader Impact is a 6-week online development experience that gives high-potential talent the confidence and skills they need to be successful.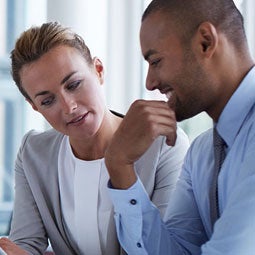 This online leadership program is designed to transform frontline managers into leaders by developing these 6 critical skills for success: 
Self-Awareness
Learning Agility
Communication
Political Savvy
Motivating Others
Influencing Outcomes
Participants will have an action plan to take back to their organization to implement — achieving real benefit and impact on the organization.
PREPARING FOR YOUR PROGRAM: BEGIN YOUR JOURNEY
Prior to participating in this program, participants will have some prework to complete. It is required that participants do their assessments and other pre-program work to ensure learning is personalized and they get the maximum benefit from their CCL experience.
LIVE ONLINE LEARNING EXPERIENCE: PROGRAM AGENDA
6 weeks (3 hours/week)
| WEEK 1 | WEEK 2 | WEEK 3 | WEEK 4 | WEEK 5 | WEEK 6 |
| --- | --- | --- | --- | --- | --- |
| Starting your leadership development journey | Developing the foundations of strong leadership | Getting your message across | Accomplishing goals through influence | Building the support you need | Motivating your team to greatness |
APPLYING THE LEARNING: LIVE YOUR STORY
Following the intensive program experience, learning support continues through various post-program application opportunities.
Date

Location

Offered by

Language

Cost

 

22 Jan 2024 - 03 Mar 2024

Moderated Online

CCL - North America

English

USD

 

12 Feb 2024 - 24 Mar 2024

Moderated Online

CCL - North America

English

USD

 

11 Mar 2024 - 21 Apr 2024

Moderated Online

CCL - North America

English

USD

 

08 Apr 2024 - 19 May 2024

Moderated Online

CCL - North America

English

USD

 

06 May 2024 - 16 Jun 2024

Moderated Online

CCL - North America

English

USD

 

10 Jun 2024 - 21 Jul 2024

Moderated Online

CCL - North America

English

USD

 

15 Jul 2024 - 25 Aug 2024

Moderated Online

CCL - North America

English

USD

 

12 Aug 2024 - 22 Sep 2024

Moderated Online

CCL - North America

English

USD

 

09 Sep 2024 - 20 Oct 2024

Moderated Online

CCL - North America

English

USD

 

07 Oct 2024 - 17 Nov 2024

Moderated Online

CCL - North America

English

USD