Better Conversations Every Day
CCL's Better Conversations Every Day™ is a personalized experience with a mentor coach that helps participants improve their leadership, coaching, and communication skills without leaving the office.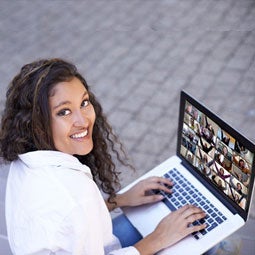 Working in virtual groups of 4, each led by an experienced, certified executive coach, participants will experience:
Best practices for building trust
Effective conversations
Achieving results in a virtual environment
In-depth discussion and practice 
This small group approach ensures active participation and engagement throughout the course, resulting in the fastest learning possible.
PREPARING FOR YOUR PROGRAM: BEGIN YOUR JOURNEY
Prior to participating in this program, participants will have some prework to complete. It is required that participants do their assessments and other pre-program work to ensure learning is personalized and they get the maximum benefit from their CCL experience.
LIVE ONLINE LEARNING EXPERIENCE: PROGRAM AGENDA
DAY 1
1 hour
DAY 2
4 hours
DAY 3
4 hours
Kickoff

Listen to Understand

Ask Powerful Questions

Challenge & Support

Establish Next Steps & Accountability
APPLYING THE LEARNING: LIVE YOUR STORY
Following the intensive program experience, learning support continues through various post-program application opportunities.
Date

Location

Offered by

Language

Cost

 

28 Nov 2023 - 29 Nov 2023

Live Online

Network Associate

English

USD

 

05 Dec 2023 - 06 Dec 2023

Live Online

Network Associate

English

USD

 

08 Jan 2024 - 10 Jan 2024

Live Online

Network Associate

English

USD

 

11 Mar 2024 - 13 Mar 2024

Live Online

Network Associate

English

USD

 

15 Apr 2024 - 17 Apr 2024

Live Online

Network Associate

English

USD

 

20 May 2024 - 22 May 2024

Live Online

Network Associate

English

USD

 

26 Jun 2024 - 28 Jun 2024

Live Online

Network Associate

English

USD

 

29 Jul 2024 - 31 Jul 2024

Live Online

Network Associate

English

USD

 

20 Aug 2024 - 22 Aug 2024

Live Online

Network Associate

English

USD

 

23 Sep 2024 - 25 Sep 2024

Live Online

Network Associate

English

USD

 

16 Oct 2024 - 18 Oct 2024

Live Online

Network Associate

English

USD

 

13 Nov 2024 - 15 Nov 2024

Live Online

Network Associate

English

USD

 

02 Dec 2024 - 04 Dec 2024

Live Online

Network Associate

English

USD