Leading Strategically Experience
The Leading Strategically Experience is a 4-week program that gives senior leaders the tools and practice to apply new leadership skills to more effectively align and execute strategy.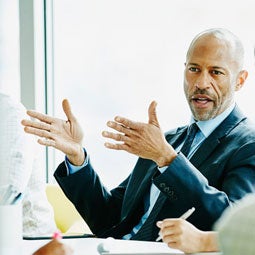 Over the course of 4 weeks, participants engage in live online learning sessions, a high-impact business simulation, and focused learning labs, all while working with a current strategic leadership challenge aimed at reinforcing immediate learning application. Additionally, participants will complete online, asynchronous learning content delivered via CCL's Leadership Accelerator platform.
U.S. federal government employee?
Our partner offers a version of this program especially for federal executives and senior leaders whose work has strategic implications for their agencies. Explore Leading Strategically in the Federal Government.
Program Agenda:
Prior to attending The Leading Strategically Experience, participants will have access to the CCL Leadership Accelerator platform, where they'll begin to engage with their cohort and jump start their experience. Participants will identify a Strategic Leadership Challenge, which will be the key project they focus on throughout the program. Additionally, they will complete 2 self-assessments that will help them focus on their leadership development priorities right now.
WEEK 1
WEEK 2
WEEK 3
WEEK 4
Strategy Training & Business Simulation
Labs & Focus on Strategic Leadership Challenge
*Monday of Week 1 – 90-minute kickoff
Tuesday & Thursday – 4 hours each day
Tuesday & Thursday – 90 minutes each day
Participants also engage in 1–2 hours of asynchronous learning each week via CCL's Leadership Accelerator learning platform.
Date

Location

Offered by

Language

Cost

 

24 Jan 2022 - 17 Feb 2022

Live Online

CCL - North America

English

USD