Leadership at the Peak is a highly personalized, 5‐day leadership development experience that gives executives a holistic view into who they are as leaders.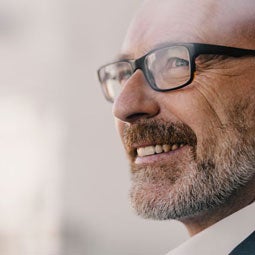 Leadership at the Peak is a once-in-a-career opportunity to maximize personal leadership power to accelerate organizational commitment, alignment, and results.
Delivered by highly qualified faculty and coaches, Leadership at the Peak is dedicated to helping executives in the C-suite or on the senior executive team address the unique challenges experienced by those at the top of the organization. This leadership development experience allows top executives to reflect on their leadership style, dissect their effectiveness, and examine how to proceed.
Program Agenda:
Before attending the program, participants will complete a series of self-assessments and a 360-degree assessment. They'll also prepare for an Executive Presence exercise and meet with the program faculty.
| DAY 1 | DAY 2 | DAY 3 | DAY 4 | DAY 5 |
| --- | --- | --- | --- | --- |
| Understanding Yourself as a Leader | Leading Others | Sustaining Your Leadership | Integrating Your Leadership | Sustaining Your Leadership Legacy |

After this leadership development experience, participants will also participate in 2 one-hour phone calls with their personal coach to help sustain their learning.
Notes:
To ensure participants have the optimum background to benefit from the program, admission is by application only.
The tuition for Leadership at the Peak offered in Singapore includes a 5-day stay at the Capella Singapore.
We have a vaccine mandate for face-to-face programs. Learn what we're doing to protect participants' health and safety here.
Date

Location

Offered by

Language

Cost

 

04 Apr 2022 - 08 Apr 2022

Colorado Springs, CO, USA

CCL - North America

English

USD

 

25 Apr 2022 - 29 Apr 2022

Colorado Springs, CO, USA

CCL - North America

English

USD

 

09 May 2022 - 13 May 2022

Colorado Springs, CO, USA

CCL - North America

English

USD

 

23 May 2022 - 27 May 2022

Colorado Springs, CO, USA

CCL - North America

English

USD

 

07 Nov 2022 - 11 Nov 2022

Colorado Springs, CO, USA

CCL - North America

English

USD