Leading Strategically Experience
The Leading Strategically Experience is a 2-week program that gives senior leaders the tools and practice to apply new leadership skills to more effectively align and execute strategy.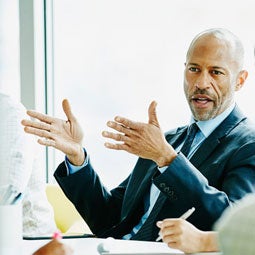 Over the course of 2 weeks, participants engage in live online learning sessions and a high-impact business simulation, all while working with a current strategic leadership challenge aimed at reinforcing immediate learning application. Additionally, participants will complete online, asynchronous learning content delivered via CCL's Leadership Accelerator platform.
Program Agenda:
Prior to participating in this program, participants will have some prework to complete. It is important that participants do their assessments and other preprogram work to ensure learning is personalized and they get the maximum benefit from their CCL experience.
WEEK 1
WEEK 2

Strategic Leadership: Frameworks, Elements, and Choices

Highlights:

Business simulation
90-minute one-one executive coaching session

Strategic Leadership: Change, Perspectives, and Application

Highlights:

Business simulation outcome and presentation
Peer consulting

Tuesday, Wednesday, and Thursday at 12–5 p.m. ET
Participants engage in a few hours of asynchronous learning each week via CCL's Leadership Accelerator learning platform and will receive 2 one-hour post-program executive coaching sessions.
Date

Location

Offered by

Language

Cost

 

12 Jul 2022 - 22 Jul 2022

Live Online

CCL - North America

English

USD

 

04 Oct 2022 - 13 Oct 2022

Live Online

CCL - North America

English

USD

 

10 Jan 2023 - 19 Jan 2023

Live Online

CCL - North America

English

USD